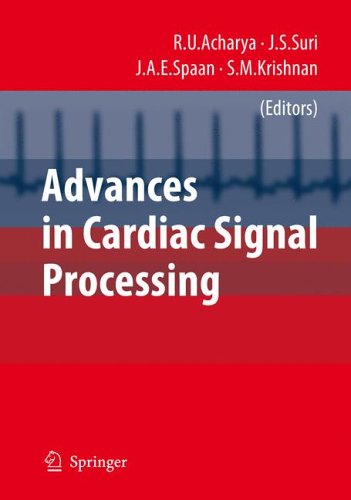 Advances in Cardiac Signal Processing
By Rajendra Acharya U, Jasjit S. Suri, Jos A.E. Spaan, S.M. Krishnan

Publisher: Springer
Number Of Pages: 468
Publication Date: 2007-05-18
ISBN-10 / ASIN: 3540366741
ISBN-13 / EAN: 9783540366744
Binding: Hardcover

This book deals with the acquisition and extraction of the various morphological features of the electrocardiogram signals.
In the first chapters the book first presents data fusion and different data mining techniques that have been used for the cardiac state diagnosis. The second part deals with heart rate variability (HRV), a non-invasive measurement of cardiovascular autonomic regulation.
Next, visualization of ECG data is discussed, an important part of the display in life threatening state. Here, the handling of data is discussed which were acquired during several hours.
In the following chapters the book discusses aortic pressure measurement which is of significant clinical importance. It presents non-invasive methods for analysis of the aortic pressure waveform, indicating how it can be employed to determine cardiac contractility, arterial compliance, and peripheral resistance. In addition, the book demonstrates methods to extract diagnostic parameters for assessing cardiac function. Further the measurement strategies for contractile effort of the left ventricle are presented.
Finally, the book concludes about the future of cardiac signal processing leading to next generation research topics which directly impacts the cardiac health care.
DOWNLOAD LINKS:

HERE OR HERE